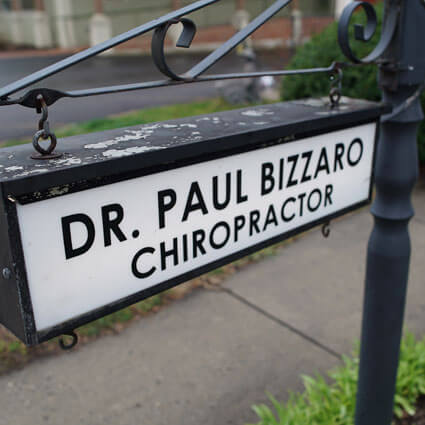 Paul M. Bizzaro, D.C. Reviews
What Our Yardley Patients Say
At Paul M. Bizzaro, D.C. we love when patients share with us their feedback and comments after chiropractic care. Please read our patient testimonials below to see what other people have achieved through their tailored treatment plans with us.
Share your stories too! Click here to send us your feedback so that we can help to spread the word about the benefits of natural Paul M. Bizzaro, D.C. care.
For more information, or to schedule an appointment contact us today.



Grateful For The Service
I heard good things about Dr. Bizzaro's practice and am so glad I made the call to see him. My issues are a bit complicated and have been going on for years. This type of therapy is exactly what I needed, but didn't know it existed. Now I have hope that I may actually have a day/s without pain. Thank you. I am truly grateful for the kind and caring service that I received during my first visit and look forward to better days ahead.
– Lisa L.
Looking Forward To More
We covered a breadth of information in my initial appointment as well as a hands-on adjustment that was much more gentle than my prior chiropractic experiences. Dr. Bizarro listened to my concerns and made suggestions that helped address them- all with warmth and professionalism and without a sales approach. I look forward to receiving treatment and guidance in his practice.
– Judy W.
I Learned Something New
Very nice office staff. Been going to chiropractors off and on for years and I learned something new with Dr. Bizzaro today. Really like his gentle approach. I am hopeful my pain will be eliminated.
– Jennifer T.
Highly Recommend
I could not wait to write this review! It's only been a few weeks and I feel like Dr. Bizzaro is my miracle worker! Well, here it is!!!! I am suffering with Hypoparathyroidism and Hypocalcemia after having cancer and a Total Thyroidectomy in 2015. For the past year, and mostly this past summer the muscle spasms, inability to walk, sleep, eat and severe cramping were unbearable to live with. I went to other spine and sport medicine places and received injections, while only a temporary fix…it did not last. Then, I met Dr. Bizzaro!!!
While he is making several adjustments, we discussed the medications I'm currently taking, my supplements for Calcium being my body does not make it any longer since the Cancer. His suggestion to switch to the natural products he has was the best move I made. I cannot emphasis how great I feel since meeting Dr. Bizzaro. I have done more in the past week then I have done all summer. I'm going on my second hiking trip this week! Please if you have been everywhere to get relief to only find your back at square one, please go see Dr. Bizzaro, you will not be disappointed.
– Diane C. (Review from Google)
Genuine and Truly Cares about Patients
Dr. Bizzaro is a plethora of knowledge, genuine and truly cares about his patients. I had my first visit today and I was impressed and yet annoyed with myself that I did not find him sooner. The services he offers cater to all client needs from chiropractic adjustments, nutrition, sports injuries, homeopathic remedies and laser therapy for acute pain. Thank you for squeezing me in for an appointment. I'm looking forward to the next one.
– Ashley S. (Review from Google)
Highly Recommend
The entire staff is so sweet and out to help as much as possible! I went in for MLS laser treatments on my broken ankle and they helped immensely! Dr. Bizzaro also recommended supplements to help my healing process and adjusted me as I was constantly hobbling around, throwing everything out of alignment. I would HIGHLY recommend Dr. Bizzaro to anyone considering. He has more than just a chiropractic office.
– Meghan S. (Review from Google)
The Pain Reduced Significantly
My first visit to Dr. Bizzaro's office I was suffering from a back injury. I was in so much pain and he listened to all of my concerns, explained the treatment plan, and began working on me right away. He even carried my purse around for me! Within a day, I was able to walk normally and the pain reduced significantly. I'm in awe of his knowledge, bedside manner, and the effectiveness of his practice. I'll be going there for the rest of my life!
– Stephanie O.
Welcoming and Comfortable
Dr. Paul's office was very welcoming and comfortable for both adults and children. The office has many educational materials. Office staff were cheerful and accommodating. I enjoy my time while I'm being adjusted. It's s temporary retreat for me. Thanks Dr. Paul!
– Jennifer W.
Dr. Bizzaro takes his time with you. He is very knowledgeable. My knee pain has decreased 75% since going to him approx 1.5 months ago. I finally feel there is a light at the end of the tunnel. I have tried many modalities and he is the only one that works. Thank you, Dr. Bizzaro!!

Maria P.
"One in a million!"
I have been a patient of Dr. Bizzaro for several years. He has always been there when I needed him. He even came to my home several times to adjust me after being hospitalized for several weeks. How many doctors do house calls today? He is one in a million. I cannot say enough good things about him and his practice. He REALLY cares about his patients!
– Gil C.
"So Patient-Friendly"
"I've known Dr. Bizzaro for over 26 years. From taking care of my son with his asthma to my daughters strep throat and my migraines I can say that I strongly recommend chiropractic care for a healthier lifestyle and he is the one I choose.
His method of care and adjustment is so patient friendly with his up to date technology that I feel so much better after a couple visits.
Though my road to recovery is long I rather do chiropractic care first before physical therapy. You must get the neck, spine along with your back, shoulder, knees in alignment in order to continue other medical recommendations. And yes, this is related to an automobile accident. So if you're looking on living a healthier lifestyle this New Year this is the way to go. Read up on it. Knowledge is power. Thank you Dr. Bizzaro!"
– Xiomara O.
I walked into Dr. Bizzaro's office like a Crumpled Cavewoman and came out dancing like a Ballerina!"

Alex H.
"His advice is great… keeping me healthy and active!"
"I have been seeing Dr. Paul Bizzaro for the past 20 years. He has helped keep me in good health. His method of chiropractic does not put any strain on your back – he does not "crack" your back. His method is to use light pressure on each vertebrae of your spine using the pressure of his thumbs to realign your spine. This method has helped me thru a severe bout of sciatica, plus other conditions resulting from skiing incidents. His advise concerning nutrition and supplements has been a great help in keeping me healthy and active.
– Betty B.
"I'm very grateful!"
"I'm 7 months pregnant and visited Paul's office on Friday for the first time. I was in a great deal of pain over the weekend and he came in to help me on his day off. He is a great guy who cares about his patients. I'm very grateful!"
– Robin S.
"Thanks again for helping me get on my feet and staying there."
"Dear Dr. Bizzaro,
I wanted to write this letter to inform your current and future patients how the new therapeutic modalities you brought to your practice, along with your adjustment style and massage therapy, made a difference in my treatment plan and physical health.
I began using the traction machine, twice a week, beginning the first week it arrived at your office. After three weeks, I began to notice my lower back and sciatica feeling looser in the morning. I also noticed after a day of in-and-out of the car (as I am in sales), I didn't feel 'locked up' at the end of the day.
The next product you brought to the practice was the MLS laser. The laser made a big change in my treatment and condition.
I have had numb feet since before my first back surgery in 2001. Some days the numbness climbed up my leg to my calf. This, coupled with the lower back and sciatica pain, contributes to one tough day. After beginning the laser treatment, my back began to loosen up, and I began to experience feeling in my feet. The Friday massage therapist began to notice fewer knots and less tightness in my lower back as well.
In addition, I broke my wrist and when the cast came off, the laser was used. I noticed a quicker recovery time with respect to gaining full range of motion.
As a result of these improvements, it is my opinion, that the total treatment plan provided by you changed my physiologic condition in a positive way. I use four different treatment types, and it has helped me in such positive ways that I am hoping to put off future surgeries.
Thanks again for helping me get on my feet and staying there. "
– Steve P.
"I couldn't believe how good I felt."
"Dear Dr. Bizzaro,
I am writing this letter to let you know how important four treatments over two weeks got me
back on my feet and back to work.
I recently injured my back at work; I am a apprentice plumber in Washington D.C., and I need to work in order to get paid. I came up from D.C. and you were able to see me on your off days, You started using the traction machine two ways. Then you did an adjustment.
I have friends who go to chiropractors, and they talk about the cracking they experience. They like it, but they feel by the end of the week they need to be cracked again. When you did your adjustment, you didn't crack my back. My dad said your way is unique but very effective for him. I was a bit skeptical when you were walking around and were touching one part of my back then another. I wasn't sure touching my ear was going to help but when you were finished, and I got up, I couldn't believe how good I felt. I was leaning left when I came in, but I was standing up straight when I left.
The next day, I was a little stiff, but after you finished, including touching my ear again, I felt really good. The following week I was able to return to work, and I was able to do my job. I was a bit stiff in the morning, but I was able to work. That weekend I was able to return for two more treatments. You utilized the traction table, touched my ears again, and I was done. I was able to work without stiffness in the morning.
It was amazing how fast I was able to feel normal after being locked up for a week.
Thanks for your help!"
– Jeff P.


Paul M. Bizzaro, D.C. Reviews | (215) 493-6589