Nutritional Counseling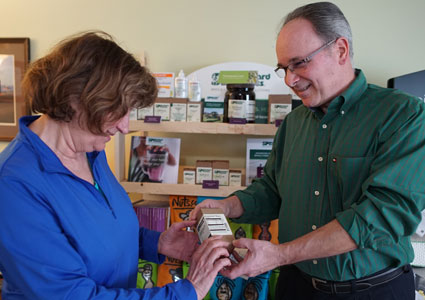 Paul M. Bizzaro, D.C. places his focus on helping to uncover the root cause of your health problems. The medical approach focuses on treating symptoms instead of finding causes. Most medical guidelines have a reductionist approach. They're trying to reduce the symptoms as the primary treatment plan.
We offer a better, holistic way to help patients achieve health. One of the ways we do that is through nutrition, which is a big piece of the wellness puzzle. Unfortunately, many people make poor dietary choices that negatively impact their health.
If we lived in a perfect world with pristine air and water, the body would have a better shot at thriving. If our food were free of chemicals, the body would get what it needs to function optimally. Since we don't live in a perfect world, it's important that we make the best choices for our health. Especially our nutrition.
We need to think about physiology before we think about pharmacology."

Dr. Russell Jaffe
We Offer the Best in Advanced Nutrition Tools to Assess Your Nutritional Needs
Stress is something we must face every day and it affects everyone differently. Whether stress comes from work-related issues or family struggles, it takes a toll on our health. It creates a chemical imbalance, taxes the body mentally and emotionally, and robs us of vital nutrients.
To put things back in balance, it's important to take high-quality supplements. These nutraceuticals provide an effective alternative to what we like to call "harmaceuticals." Here are the products that our office relies on for superior results:
DesBio
MediHerb®
Pure Encapsulations®
Standard Process®
Perque
Microbiome
These products have stood the test of time and are of the highest quality possible. Homeopathic remedies are also available for those seeking to reduce their medication intake. We also cater to vegans or vegetarians with special dietary requirements.
Are you experiencing prolonged symptoms that aren't going away like sleep issues, anxiety or digestion problems? If yes, then it's good to get a full spectrum of tests to determine if you have deficiencies that could be addressed with supplements.
For example, you may have high levels of cortisol when you need them to be low, so you can sleep well. Or you may experience constant postnasal drip but have accepted it as being normal. Perhaps you're experiencing PMS symptoms and your gynecologist has told you that it's normal to have such symptoms. Though those symptoms are common it doesn't mean they're normal.
We work with several labs that provide testing to get to the root cause of your particular issue so we can provide lasting, drug-free solutions. These labs include Better Lab Tests Now, Pergue, SpectraCell, Evexia Diagnostics and others.
With these kits, we can isolate whether your particular GI condition is due to a parasite or bacteria. Many people with digestive problems have a blanket treatment. For example, if you have a GI problem, you'll likely be told to stop eating wheat. Some people are told by their doctors that they have celiac even before they test them. We never guess but always test. Based on the results of your tests, Dr. Paul can recommend certain supplements and other lifestyle habits that can help you heal.
Our Psychoneuroimmunology Approach
This new field of study examines the interactions between your central nervous system and your immune system. With chiropractic care, we're positively affecting the mind, the nervous system and the immune system. By adding in nutrition, we can help you optimize whole-body health!
Telehealth Counseling Available
Given how our world is reeling from the COVID-19 pandemic, many people have been taking a look at their current life circumstances and were concerned about their health. They started exercising, walking, spending more time outside and paying attention to their overall health. Knowing there are many ways that one can boost their immune system naturally, we know we could help.
A Way to Give Back
With many people having to be inside, we thought being able to offer nutritional care through telehealth would be a great way to give back to the community and help them through a difficult time. Most importantly, the doctor can put dedicated time aside for individual care.
Telehealth is covered by most insurance.
Frequently Asked Questions
How has nutritional counseling helped your clients?
We had several clients with different issues. For example, we were able to help some with problems with their digestive system. They did the GI-Map test that we sent to them. We can test for mostly anything, including allergies, GI issues, vitamin deficiencies and more.
Do clients see better results when they address nutritional issues as well as spinal misalignment issues?
Yes, it works around the principle that the relationship between the body's structure and its function affects health. The spine not only acts as the primary support for our body, it also protects the spinal cord, which connects a large part of the peripheral nervous system to the brain.
Let's Get Started
If you are "sick and tired of being sick and tired," please contact our office. Dr. Paul has personally experienced trauma from nutritional issues, so he understands your needs. His own ordeals are what drew him to the study of nutrition and how it impacts total health. Book an appointment today. We are offering telehealth nutrition! You don't even need to leave your home to get started. We will counsel you remotely!
Any of the information provided is not used to diagnose, treat, cure or prevent any disease.

Nutritional Counseling Yardley, Lower Makefield, Morrisville PA, Ewing Township NJ | (215) 493-6589